Being familiar with the parts of your vehicle and how they work together is an important part of being a safe driver.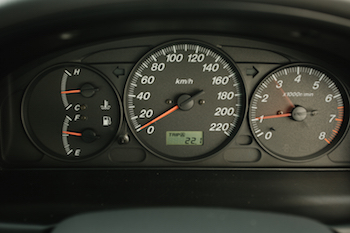 Your instrument panel contains the following:
Speedometer tells you the speed of your vehicle in MPH and KPH.
Tachometer shows how many rotations your engine is making per minute.
Odometer shows how many miles your car has traveled in its lifetime.
Fuel Gauge shows how much fuel remains in your car's tank.
Gear Display shows which gear your car is currently in.
Turn Signal Indicators flash when your turn signals are on; both will flash if you turn on your hazard lights.
Active System Lights alert you to parts of the vehicle that are activated, such as an open trunk or door.